The key issue here is, is it really a paradise? Is working remotely all glam with no ifs, ands, or buts? Let's find out.
Flexibility and Freedom to Do Literally Anything
When you work remotely you can do all sorts of things that would be unimaginable in a standard office space. First things first, your 'office' could be located in any place on Earth, provided you have access to stable wifi, that is.
You can work from a swanky hotel in New York City, Bamboo retreat in Bali, The Work Project in Hong Kong or from a BeacHub hammock in Thailand. The list of envy-worthy destinations of co-working spaces around the world is getting longer every day as the remote workforce is becoming more of a standard these days rather than an anomaly in IT world.
Working remotely gives you an unprecedented opportunity to see and travel the world, visiting places that your friends could only dream of.
Bye Bye Commuting, Welcome Free Time!
When you work remotely you can forget about commuting, what a relief! No more getting up at an ungodly hour. No more catching buses and trains that shut the door in your face, no more waiting at the bus stops soaking wet for 45 minutes because the driver isn't willing to stick to a bus schedule - talking to you Dublin bus :)
You will never be late for work, signing late slips and making up credible excuses - which is bliss. You get up when you want, have your breakfast in peace, no more rushing, no stress and fatigue from being stuck on a crowded tube with people literally clinging to one another against their will.
Once you cross off commuting from your daily chores you realise how many hours of additional time you gain during the week! You might not even know what to do with those additional 2, 3 hours per day, our advice - learn something new or brush up on your coding skills.
Better Work/Life Balance
This might sound like a cliche but it's true. Working from home can give you that much-needed push to achieve a good work/life balance. You can finally do heaps of laundry that had been piling up in the bathroom for weeks. You can eat more healthily, making your own lunch at home and saving a bit of cash in the process.
When working remotely you can take 15 minute breaks and do stuff that would never get an okay in a standard office environment, you can sing along to your favourite tune to clear your head, do a short yoga workout, have a power nap to recharge your batteries or go for a quick jog around the building. You're the master of your own schedule and you can be quite flexible with time, which is one of the best perks of working from home.
You can also spend more time with your loved ones. When you work in an office and are subject to a long commute you can hardly see your kids during the week. They are still asleep when you leave and in the middle of a bedtime story when you're back. When you work from home you can be more devoted to your family where juggling your personal and work life seems a lot more doable.
You Are Way More Productive
The office environment can sometimes be super loud, especially if you're seated next to a sales team (I've been there). Working from home can put you in the right headspace, with a quiet environment that is conducive to being more productive. No more unnecessary chit-chats, distracting meetings that keep you stuck in the conference room for half the day or obligatory team events. When you work from home you don't have to deal with all these distractions, you can easily focus on the task at hand and in turn, you're way more productive.
According to Canada Life Survey, those that work from home rank their productivity 7.7 out of 10 compared to 6.5 for those working in the office. What's interesting is that homeworkers have also reported much lower stress levels compared to those working in a standard office environment. You can start your day at any time you want, you don't need to clock in at 8 a.m., if you prefer staying up late and working mostly in the evenings. If you are more productive during early mornings, the world is your oyster, you're in charge of your own schedule.
Working from home will also teach you new skills, you will learn how to rely on yourself, as you wouldn't have your colleagues on standby that could fix a problem on your behalf. You'll be a pro at Google search, you will learn how to trust yourself and take the initiative instead of relying on those around you.
You Might Get Lonely from Time to Time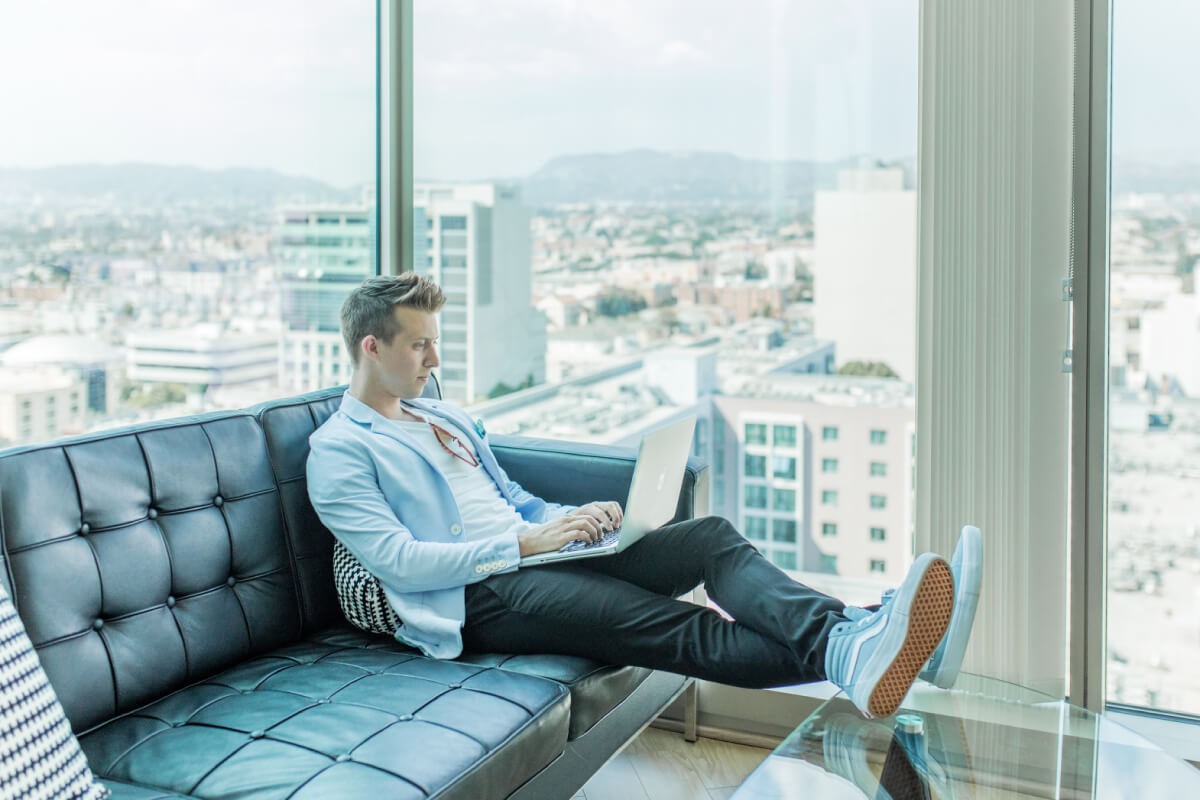 Working from home is not for everyone though and it's not all glam. There are a couple of obvious downsides that we need to take into account.
Let's be honest, you might get lonely and miss the occasional office banter. You might miss the real face to face contact with your colleagues, feel a bit left out missing out on silly office jokes, major company news or quirky office gossip.
To be fair, it all depends what type of personality you are, if you are more outgoing, an extrovert craving human contact, you might find working from home quite challenging. On the other hand, if you are an introvert with a capital I, enjoying your own company, working from home would probably be right up your alley.
You can always go to meetups, find coworking spaces near your home or venture out into nearby coffee shops if you need to get out of your own bubble to talk to some fellow humans. One thing is crucial when working remotely, make sure you're always connected with your colleagues, be it via Slack, Skype or Google Hangouts.
You Might Miss Out on All the Company Perks
When working remotely you might actually miss out on all the fun that the Tech companies offer. Free food, drink night outs, stylish office spaces, competitive ping pong tournaments or Fridays' pizza and beer get-togethers. If you're not that into socialising with your colleagues you might not even deem it as a downside, however, most people I know would probably cry inside getting a sever case of FOMO (Fear Of Missing Out) clicking through numerous pictures on Facebook from major company events. Drinking alone at home would definitely not cut it.
Even if you work remotely you need to get out there from time to time, getting to know your team outside of working hours. It can dramatically improve the working relationship among your team.
Working Remotely Is Not for Everyone
We are all different, some are introverts and prefer to work on their own, others love working in a team and socialise with their coworkers outside of the office. Remote work offers endless possibilities, there is no question about it. However, some might be suffocating at times, spending whole days in their PJs, finding it difficult to discipline themselves and sticking to tight deadlines while at the same time missing out on the occasional office banter.
There are upsides and downsides to anything. Consider the pros and cons and decide if working remotely is going to make you happy. Just remember to get out of the flat from time to time, going to meetups, cafés, networking events or even joining numerous groups on linkedin so that you're not completely cut off from the world. There are millions of options, pick the one that works best for you.
Want to get into the IT industry and work remotely? Fill in our aptitude test and become the next coding superstar!