Programmers don't always make the hiring managers' job easier. Their quirky whims go way beyond free snacks and can sometimes startle, especially when the companies decide to indulge them!
Flexi-time, free food & good health insurance are yesterday's news. Nowadays programmers ask for zip lines, helicopter rides and Slip 'n Slides in the office. Apparently, over 34% of prospective employees mention that perks are one of the most important considerations when accepting a job offer. Tech companies get more and more creative, knowing that tech buffs get bombarded with multiple job offers every day and focusing on perks is the best way to lure and retain valuable talent.
Programmers Can Get Away With Anything
Coding talent has been in short supply for quite some time now, that's the reason why programmers try to push the boundaries. They know they can ask for anything when having an interview and easily get away with it.
Game rooms with the latest versions of FIFA, fresh fruit delivered daily, ping pong and pool tables, free lunches/dinners wouldn't surprise anyone as it's the norm in the IT industry in this day an age.
We've put together a list of the top 10 outrageous perks programmers wish they had in the workplace. Some of them would get an okay from the hiring manager, which could eventually raise a few eyebrows!
1. Zip Line to a Neighbouring Bar
One of the programmers at Pinterest asked if the company could build a zip line to a bar that was in close proximity to the office. Unfortunately, his idea got a no, what a shame ;)
2. Slip 'n Slide in the Office
Another tech-savvy employee at Adobe, asked the company if they could install a Slip 'n Slide in the office as he wished to use it during his working hours. It's not been confirmed but apparently, the manager didn't immediately dismiss the idea and took it into consideration.
3. 'Too High Salary'
One of the programmers mentioned during his interview that he would accept the offer but he wished to get a salary that is deemed 'too high', whatever that meant. As a result, he signed a contract with a salary that was twice the amount that was initially offered! What a chancer ;)
High salary is one of the main reasons why people that haven't been connected with the IT industry in the past, have decided to change careers signing up on one of our courses. In fact, the salary increase is considerably high in IT. Our graduates tend to get even 48% salary bump after one year after finding employment compared to their last position. Year on year salary increase is much faster than in other industries - says Marcin Kosedowski, marketing manager at Kodilla.
4. Working Night Shifts
One programmer wished to work night shifts. He asked for a special bed that could be unfolded as he preferred working lying down. He claimed working during the day is too distracting and he's way more productive during the night. He was granted the request, however, after a couple of months, the hiring manager realised that no one ever saw him at work and he was completely anonymous. The idea didn't pan out, nevertheless, IT companies have become a lot more flexible with their attitude, letting their employees work remotely, which is one of the most attractive IT perks for the new hires that wish to combine work and travel.
5. An Aquarium & A Vending Machine
One of the coding geniuses mentioned during his interview that he would like to have a big aquarium near his desk. In case that wasn't doable, he'd be satisfied with a personal vending machine that would give him an unlimited access to fizzy drinks...for free!
6. An LCD Screen... on a Ceiling
Another whimsical demand of one of the programming buffs was the fact that he wanted an LCD screen attached to the ceiling straight above his desk as well as an armchair… wait for it... in the shape of the ones found on an airplane! He said he wanted to work from the lying position, I guess he was definitely thinking of the 1st class, rather than the economy.
7. Relocation Package, not for the Family
Relocation Package offered during the hiring process wouldn't surprise anyone, especially as it's common practice not only in the IT industry. There was one programmer though that had a bit of an unusual request. He was offered quite a lucrative position and took a couple of days to think it over. The relocation package was included in the contract for him, his wife and a daughter. Nevertheless, he didn't want to accept the offer until the company gives a relocation package to his daughter's….nanny! He claimed they got on pretty well and he didn't want to replace her with anyone else.
8. Concierge Service for Personal Parties
Hands up who thinks that a concierge service that takes care of your personal duties is a smart idea and should be included as one of the company perks? Well, one of the programmers believed that it's a must-have, the main duties performed by the services would be planning personal parties (birthdays, anniversaries, you name it) as well as taking care of home-improvement planning, all for personal not corporate use. It sounds quite improbable, however, Google actually offers that, on top of other numerous perks!
9. Securing Wife's Job When Relocating
There was one other case of a programmer that wouldn't accept the generous offer only for one simple reason, he claimed it's imperative that the hiring company secures his wife's position as a hairdresser in the new location they were supposed to relocate to. He didn't get a no, instead, the whole IT team started screening the area for hairdresser salons. They managed to get his wife hired, hence the programmer accepted the job offer. It would be quite uncommon for a company to go to such lengths to hire a coding pro, however, it only shows the lack of tech talent in the market and the fierce competition between brands when hiring and retaining the best.
10. Significant Salary Increase due to Regular Jogging
One of the programmers tried to negotiate a significant salary increase due to the fact that he was a runner explaining that it's a costly sport as he needs to buy new shoes every couple of months.
On Top of All That…
Ewelina Podhorodecka, our Graduate Support Leader shares her own experience of working with the IT specialists throughout her career,
Ability to walk barefoot around the office, company motorcycle available to the employees, healthy and fresh juices delivered daily to one particular person, straight to her desk. One of the programmers demanded that the room he was going to work in should be green. I also remember one programmer asking if free fruit delivered to the office could be sent to someone's house on those days when they work remotely -mentions Ewelina.
What do IT Companies Actually Offer to New Starters?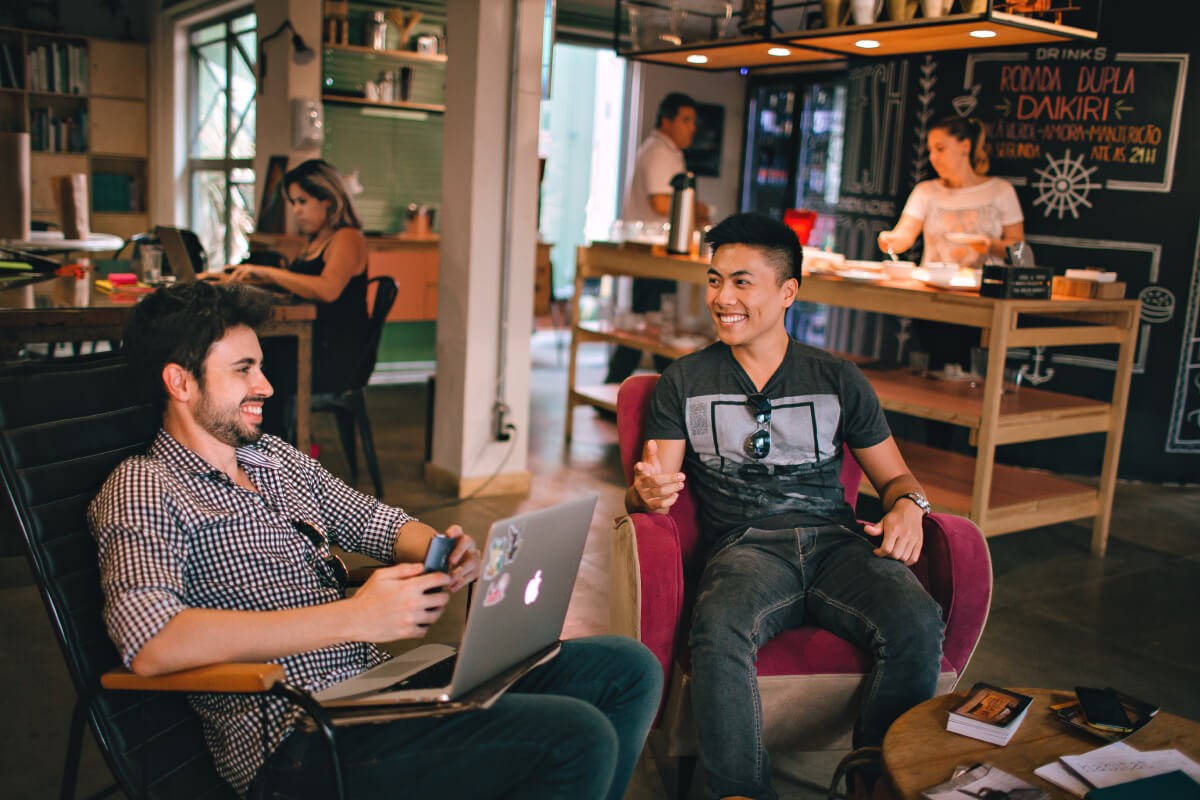 Some companies indulge the whims of newly hired programmers, they know it's a win-win situation. They get a high-quality employee that is not going to look for another gig at least for a couple of years.
What actual perks are already available to the ones looking for an employment in the IT world?
Hotjar offers employees up to €4000 if they wish to build their own personal office space at home.
Cloudreach gets all the employees together on a secret holiday retreat across North America & Europe each year.
UK Fast provides an additional one week paid leave for those that are getting married and a whopping £10,000 to employees that had been in the company for ten years.
Facebook gives assistance for adoption or surrogacy with $4000 additional bonus for those that have just had a baby. If that's not impressive enough Facebook employees can get their hands on communal bikes to navigate the campus with ease, with a short distance to a company candy store, gym, pizzeria, a video arcade, dry cleaners and a sushi restaurant.
Google employees can give each other so-called 'massage credits' for appreciating someone's work on a particular project. The credits can be used for a free one-hour massage session. Googlers have access to free onsite breakfasts/lunches and dinners, an acupuncturist, swimming pool, gym, haircuts and medical services.
Asana gives each employee a humungous amount of cash to spend on their office setup ($10,000 to be exact). Most asana newly hired use the cash to motorise their desks, get a personalised mini-fridge or buy ergonomic furniture.
At Dropcam employees are given a ticket for a free helicopter ride! What's more intriguing is that none other than the CEO is the pilot :)
How Come Programmers Have Such Unusual Demands?
They are spoiled because of the market. They are being bombarded with enticing offers every day. Programmers feel extremely comfortable in their positions and that's the reason why they sometimes have such unusual demands, they are testing the boundaries - says Agnieszka Chroma, HR specialist. They don't really want all these perks but because other companies insist on hiring them they keep coming up with unexpected requests. There's always a chance that they would say yes!
Generous perks have become a gold standard in the technology industry. The tech companies know that programmers should be treated with a VIP pass as the demand for tech wizards is still in high demand, that's why they are pulling out all the stops to attract and retain the best coders on the market. Not every whim is satisfied though because the IT world is not made up of moody, demanding, egocentric tech gurus.
There are certain standards. Compensation commensurate with your qualifications as well as standard corporate perks. Additional benefits are not uncommon but we can't treat it as a rule. Our students invest in their own development. They want to move forward, undertaking interesting projects. Learning how to code and the ability to change careers is the most important factor. We're referring our graduates to companies that enable that and we're training them to have such mentality when entering the job market. What's important is respecting others and your own work. If someone has unreasonable demands from the start, not giving anything in return he will need some serious reality check - comments Marcin Kosedowski.
What perks would you like to have at your workplace? Tell us in the comments!
Do you think you have what it takes to become a programmer? Test your awesomeness by taking our aptitude test :)