It's no surprise that more and more young people think of a career change. When you're 18, just before heading to uni, you don't necessarily know what future jobs would match your hidden talents and skills. You've probably chosen your degree based on your A level exams. It's quite challenging to pick your career path when you're in your late teens as only when you're in your 20s, you truly begin discovering who you really are, further developing your personality.
For that reason, career change is a smart move in your 30s. You're more conscious about what you value the most in the workplace and you can easier pinpoint what's missing. You can change careers at any point in life but the early 30s seems like a perfect timing for choosing a new career path as most likely you already know what your strengths are. The challenge is how to reinvent yourself and how to get there.
Reasons for Breaking into Tech
The Tech industry is growing rapidly and there is room for bright and highly motivated individuals to break into IT and take on new roles. The enticing world of Tech presents you with lots of opportunities, from higher paychecks to numerous benefits like free food, world-class office spaces and the ability to work remotely. Software engineers and developers are consistently in high demand, there are plenty of job openings for those with coding skill and the average salary is 44% higher than the national average in the UK. The IT world predicts that there'll be 1 million more jobs in Tech than students by 2020. What's more, the Tech positions are in the top 100 Best Jobs according to the U.S. News Report.
Finding Your New Career Path
Once you are convinced that the Tech industry is where you aspire to work in the foreseeable future, you need to figure out which career path to choose. There are many different roads you can take but first, you need to focus on your current skills, interests & talents. It takes a bit of soul-searching but it's worth it and helps avoid disappointments along the way.
Do you love maths? Or you have more of a creative flair? Get to the bottom of what makes you tick. Back-end developers tend to work on the part of the website you can't see, the 'server side'. If you can't live without maths and your logical thinking is your forte, I would say you'd be happier going into back-end development. On the other hand, if you're more into playing with the visual and interactive side of the website you should consider going into front-end development. Bear in mind that nowadays, Full stack developers (skilled in back-end and front-end) are definitely more in demand on the job market. It'd be a great idea to learn both back-end and front-end as you'll understand exactly how both of the technologies interact with each other. They don't exist in isolation.
With Kodilla you can easily do a Web developer bootcamp that will teach you the ins and outs of both technologies that hide behind well-built, modern and responsive websites.
Before picking the exact role you want to be in, do some research and find out which particular position in Tech will be most satisfying and relevant to your career aspirations. Write down the list of your hobbies & interests and focus on your strengths. Think about what inspires and motivates you.
Get Skilled & Increase Chances of Getting Hired
Coding is a creative field, you create websites from scratch, build web or mobile apps or play with something as exciting as machine learning and AI. Once you know which part of programming speaks mostly to your interests and talents it's time to get skilled. Coding is a skill and everyone can learn it. You just need time, devotion and a good course structure.
Kodilla teaches you the practical skills as most of the course content is made up of practical exercises. Your Mentor can give you additional tasks if you're eager to practice more as coding gets better with time and the more you spend on it during the week, the closer you'll be to getting qualified and making that career move.
With Kodilla you can spend 6 or 9 months learning how to program on a part-time basis. You don't need to quit your current job, nothing of that sort. You can prepare for a smooth career transition with a schedule that is tailored to your needs. Kodilla offers online coding bootcamps that you can access anywhere, anytime. The only requirement is a laptop and a wifi.
After enrolling on an online coding bootcamp you'll need the motivation to stay focused. It might be a bumpy ride at first but the most important is not to get discouraged. Once you start learning to code you need to make sure you also work on building your portfolio. Future employers will be more inclined to hire you when they'll have an opportunity to see your actual work online.
Create Your Own Portfolio of Projects
You've started an online programming course and you're on the right track for becoming the next hot shot in the programming world, perfect. The next thing to tick off your list is creating a portfolio of projects where you can showcase your coding skills. Create a GitHub account and start with small projects, building up to something more complex. When it comes to hiring a coding bootcamp grad, the experience you have will play a big part in the hiring process. Today's world is hyper-competitive and you need to pull out all the stops to put your best foot forward.
Kodilla gives you an opportunity to follow a structured course that will teach you all the magic behind the front-end and back-end technologies while also exposing you to real life projects programmers need to tackle on a daily basis if you pick the PLUS option. It will give you 12 additional weeks to spend on individual and group projects that will enhance your professional portfolio.
Be Confident & Knowledgeable About Your Strengths
Let's be frank, programming is not going to be a walk in the park. You might get frustrated at times, stressed out and feel like it's not going to work. At that moment you need to remind yourself why you're learning programming in the first place and what you can gain once you're fully qualified. You want to make a career change that will have a positive effect on your future, the most important is to keep going and not give up.
Note down your goals and what you want to achieve. Focus on smaller, short term goals that are easier to fulfil, smoothly transitioning to bigger ones like getting an invitation for an interview or landing that first paid job in IT. You might get pushbacks along the way, all of us do, but only successful people keep going learning on their mistakes. If you give up too quickly you might miss that opportunity that is just around the corner.
Networking is Crucial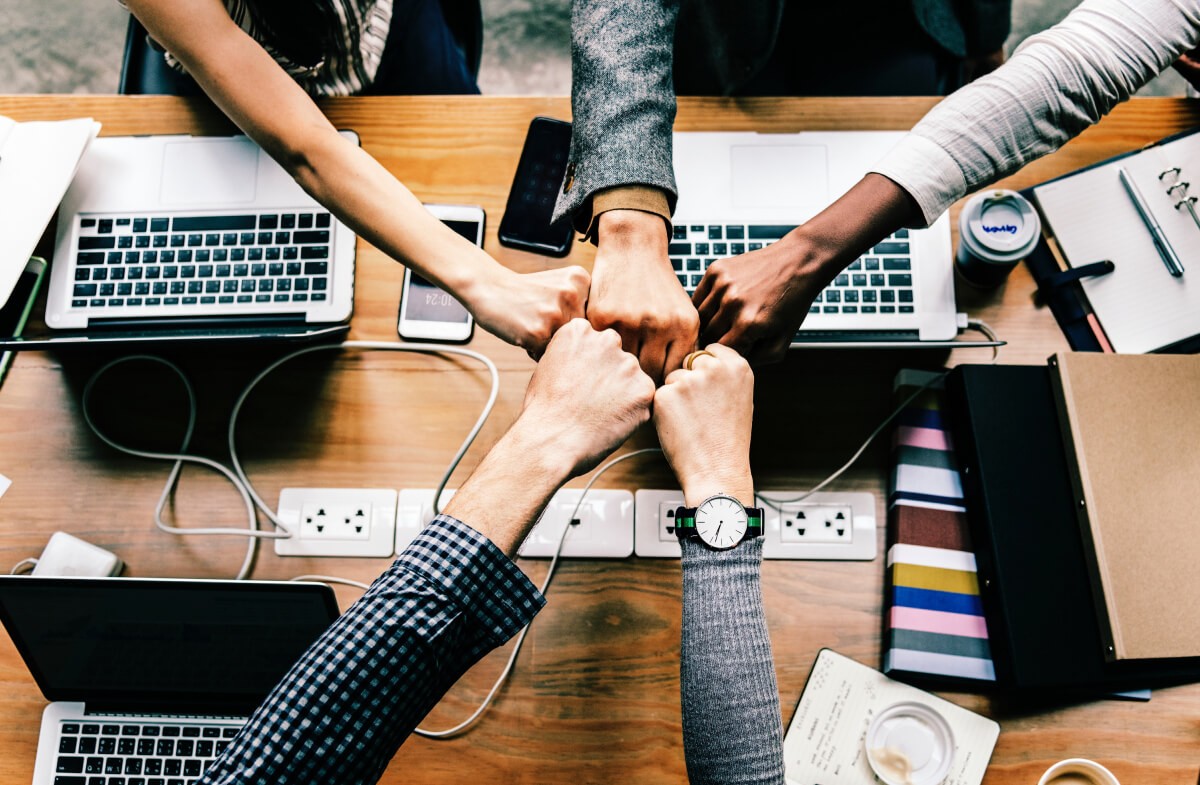 Whenever you change careers, regardless of the industry you want to get into, networking seems like one of the vital elements that can get your foot in the door. Talking to people about your future plans is the first step in establishing a network that can eventually help you out in finding that first gig in the new industry. You might not have all the necessary skills and experience but most often then not, once you get a chance to talk to the hiring manager outside of the constraints of a standard office interview, you can show your personality, enthusiasm and eagerness to learn in a way that would be hard to convey through a résumé.
Start with boosting your Linkedin profile, connecting with people in the industry, recruitment agencies and hiring managers. Join the conversations in numerous Linkedin groups that are relevant to your future role plus attend different events on meetup.com as there are lots of organised workshops & talks, specifically dedicated to programming. You will have a chance to meet up with people that are already working in the industry, you might also talk to managers that might be looking for someone like you. Apart from meetups, consider signing up for hackathons, events specifically tailored to software engineers, interface or graphic designers that collaborate together, working on software projects.
Our advice is, trawl the internet and expand your network. People that you connect with can provide you with a valuable advice or even a referral. Talk to your family and friends and try to establish relationships with people that are already working in Tech as they are an invaluable source of information. Apparently, 50% of all available jobs are not advertised, start talking to like-minded people to get in front of the competition today.
The Main Takeaway
Career change is challenging and might be a bit daunting if you don't have a clearly laid out plan. You will probably encounter many pushbacks along the way, which might be quite discouraging. The main thing is to persevere. Think about your goals and make sure you're going in the right direction. Use all the available resources to get skilled, expand your network and build up your portfolio. Most of the successful people failed at some point, the only difference is that they never gave up. Keep going and your dream of breaking into the Tech industry will finally come true if you put enough effort and devote a significant amount of time to make it work. Your biggest obstacles are your fears that might be holding you back. Breath in and start your future today. Start to learn how to code now.
If you still can't believe you can do it, check out a story on Reddit about a guy that went from knowing nothing about programming into a full-time developer position in a year.