No wonder as the IT industry is expected to experience a strong deficit in tech professionals in the coming years so if you want to become a programmer, now's the perfect time!
The question is, once you've become a developer, how much can you actually earn? Will you be able to buy a yacht and a Porsche after working in the industry a couple of years and get a continuously hefty paycheck at the end of the month?
The salaries vary based on your experience, location, company, languages you can code in, specific role as well as your negotiating skills. It wouldn't surprise anyone that higher salaries are taken for granted in larger cities like London where the pay for Java developers can be even 15% higher than the national average!
Which Programming Languages Pay the Most?
We've had a look at the most popular programming languages in the industry (according to GitHub) and checked their median pay at the IT Jobs Watch UK that reports on the current IT Job market.
Out of the 10 most popular programming languages, Java, Python and Ruby pay the most, whereas JavaScript, Java, C# & Python have the most live job vacancies advertised. Check out the full list below.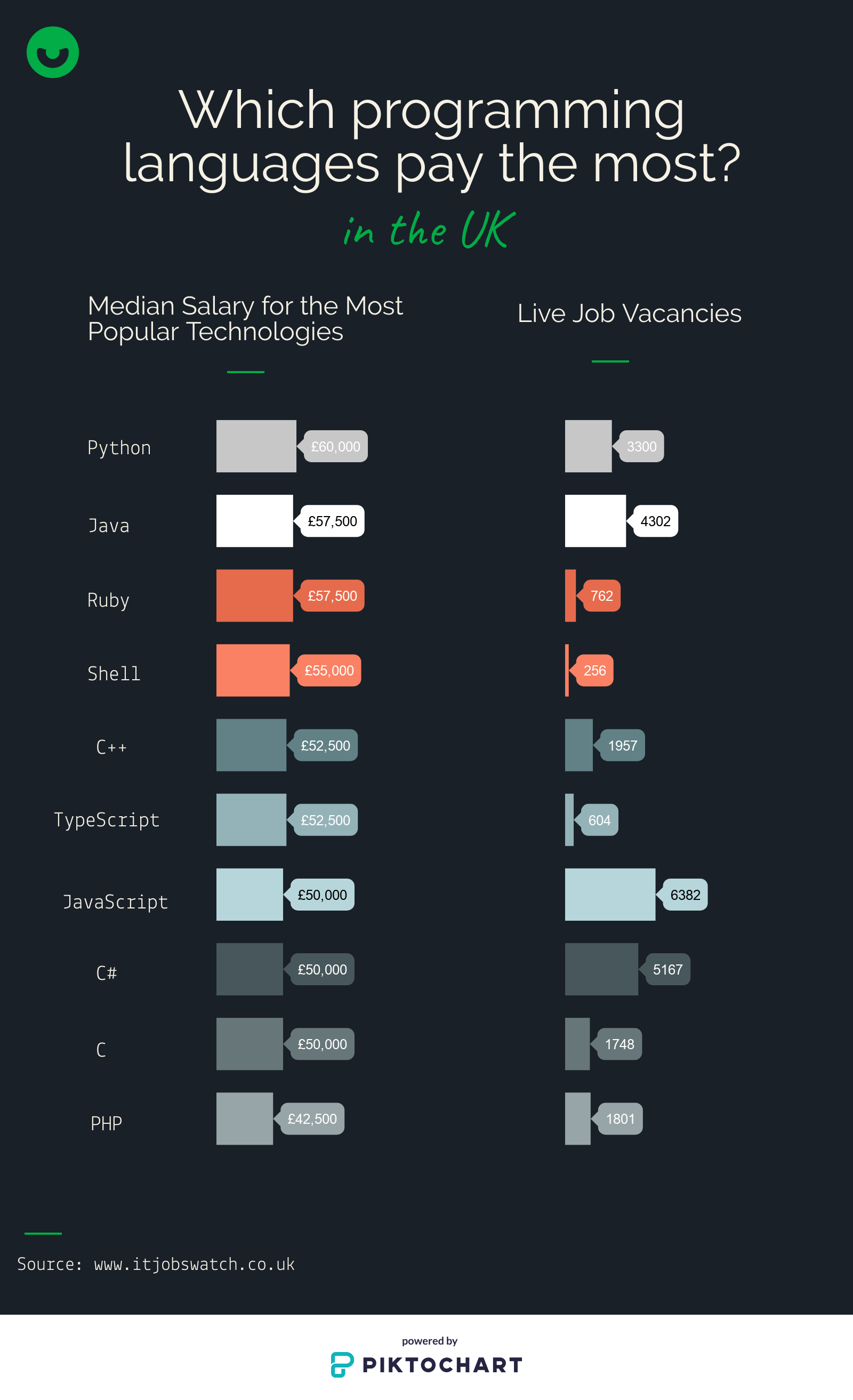 How Much Does a Junior Java Developer Get Paid?
In principle, Java Developers get paid more than Web Developers. Why? Java has a steeper learning curve than Web Development and requires highly developed abstract thinking. It's one of the most sought-after programming languages for building large applications (especially in banking and automated testing) and has been the main tool for developing Android's native apps.
What can realistically Junior Java Developer get within the first year in the industry? According to Glassdoor, Junior Java Developers can earn anything between £20K and £32K, with £26K being an average. It all depends on your skill set and negotiating power. When prepping for interviews, make sure you have an impressive portfolio in hand to wow your potential employers and show yourself in the best possible light.
Once you get a bit of experience under your belt, you can expect an average pay of £40K per year and senior java developers with serious skills and recognised qualifications can get between £50 and £80K, depending on the company.
Curious to know more what java developers do on a daily basis and which technologies they use in their daily work? By completing Kodilla's Java Online Coding Bootcamp you'll get to know the features of object-oriented programming, discover amazing capabilities of the Spring framework and create your first application.
How Much Does a Junior Web Developer Get Paid?
Web Developers would usually get slightly less than Java Developers and can expect to get between £18 to £25K when they're fresh in the new role without any previous programming experience. After a couple of years in the industry, they can count on a considerable pay rise and earn up to £46K per year.
According to Glassdoor data, senior web developers, with relevant experience and amazing coding skills can earn up to £62K per year. It's no surprise that in today's IT market, full stack developers (those skilled in front-end and back-end technologies) earn much more than their front-end counterparts and have more offers to choose from.
With Kodilla you can become a web dev pro, creating impressive front-end and back-end projects that can be ultimately included in your portfolio. Need more details? Check out the full description of the web developer online coding bootcamps here.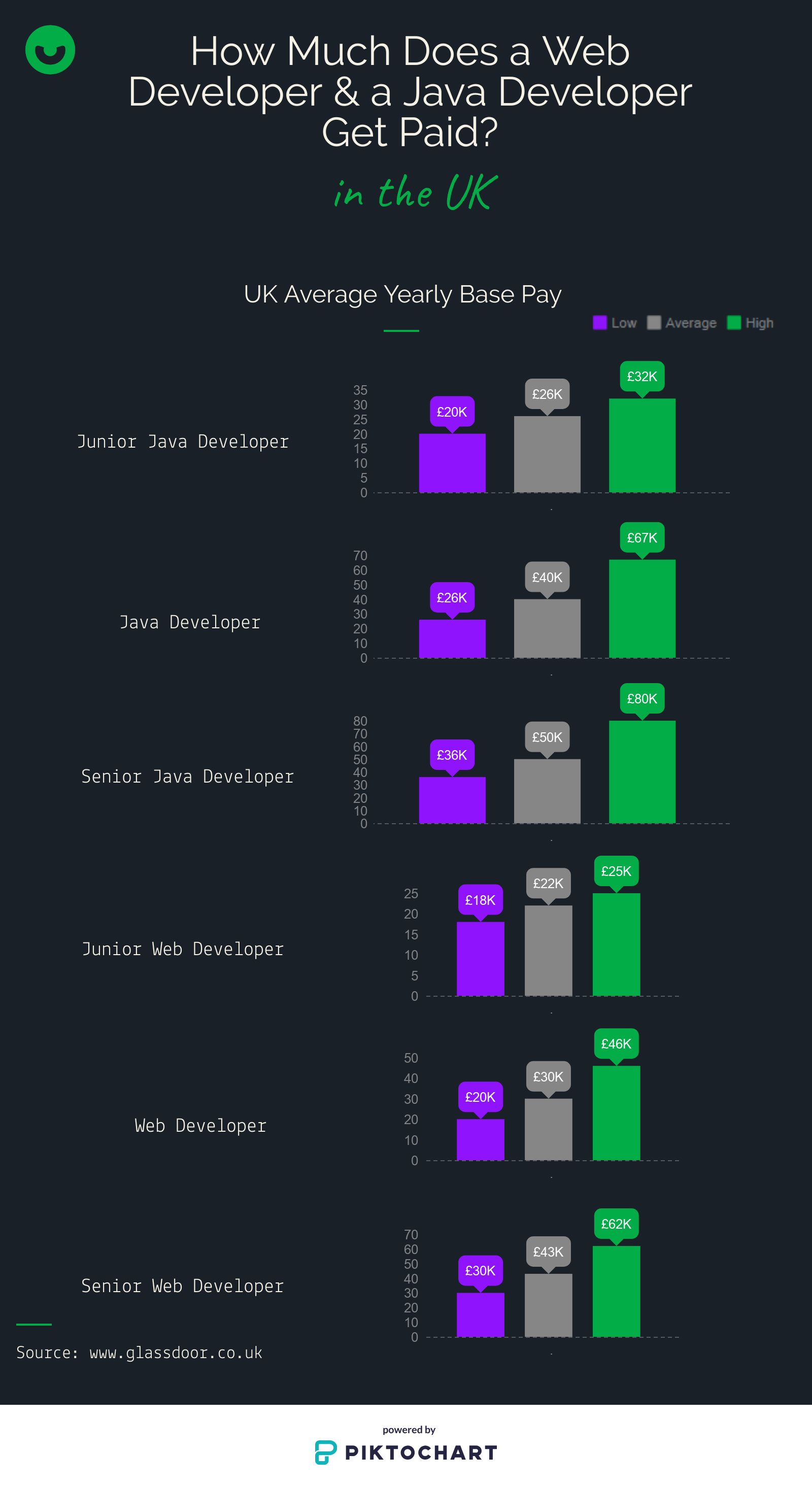 Programming Can Bring You a Serious Paycheck
Programming is like anything else, hard work pays off and without any pain, there is no gain. It can be tough at the beginning but once you get fully immersed in complex algorithms, it can be considered a rewarding career that has the potential to bring you a well deserved, large paycheck at the end of the month.
In order to break into the IT industry, you'll need to start from the junior position though to gain the invaluable experience and build your way up. You can expect a healthy salary bump after learning different programming languages, gaining new skills and making sure you keep tabs on the latest changes in the Tech world so that you're continuously competitive on the market.
Salaries in Tech are generally higher than the UK national average as the digital technology sector is growing 2.6 times faster than the rest of the economy according to the 2018 Tech Nations Report. It's definitely worth investing in learning how to code! Programming becomes the new literacy and there is no going back.
Take our free aptitude test and start working on your career today :)